For all of the minimalists out there, Skim Milk is proud to present our list of 10 product gift ideas. Ranging from tech devices to decorative objects, each product shares a common thread: a focus on minimalism and consideration for details. While some of these are from well-known brands, we also wanted to include some independent studios that deserve a spotlight this holiday season as well.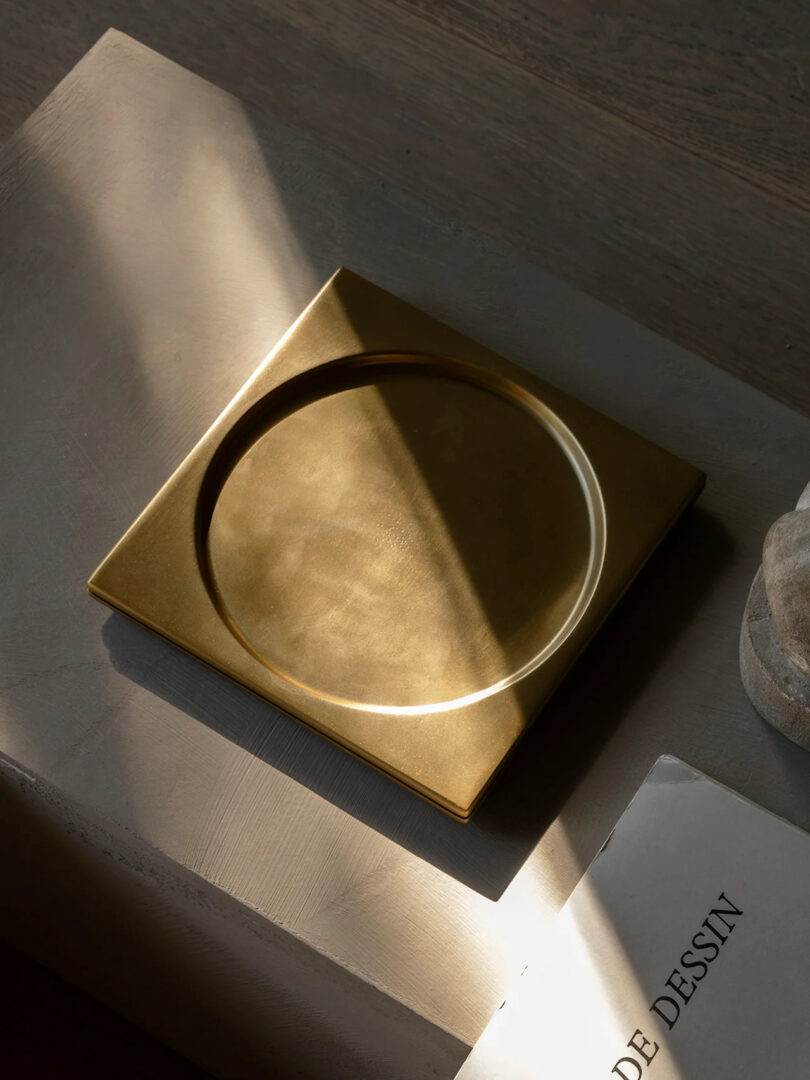 Colin King has become a household name within design circles, and for good reason. Audo, formerly Menu, was early in partnering with the designer, and deserves this year's top spot on the gift guide. Divot Tray is a seven inch by seven inch brass tray featuring a debossed radial surface within the center of the tray. It is truly a statement piece regardless of its simplicity.
Ever since the launch of the iconic OP-1 synthesizer, Teenage Engineering has not faltered with their subsequent design objects. One of their newest, the OB-4, is a portable high-fidelity bluetooth speaker with a 40-hour rechargeable battery. In true Teenage Engineering fashion, the speaker also memorizes everything played on an endless loop tape, allowing users to rewind and remix anything played through it.
Yeongkyu Yoo, founder of cloudandco (otherwise known as cac) has never deviated from his passion of creating products and designs that belong decades into the future. The immaculate details, from the packaging to the material, naturally create a calming effect, with users inclined to handle his products with care. The minimalist monolith sleeve features magnets with an interior lined in soft microfiber in order to create functional satisfaction every time a laptop is placed within.
Hammers are not typically objects that come to mind when one thinks of beautiful design, but Origin Made's Cast Hammer is here to change that. Conceived by Gabriel Tan, Origin Made has put the proximity of his new home in Porto to good use. Production for the hammers are completed within Portugal, and come in two finishes: satin or blackened.
Leica is no stranger to producing some of the world's most beautiful cameras. With their newest release, out today, they have taken their engineering and design prowess to create an unexpected hybrid instant camera. Housed within a minimalist body, the camera can capture and print photos on the fly using the manual printing lever. (For more info on the Leica SOFORT 2, check out the next post!)
Coming all the way from New Zealand, Citta features beautifully designed objects at an accessible cost. The Geo Marble Cone is one such object, designed by David Moreland and Nikolai Sorensen. The weight of the cone allows it to be used as a bookend, and is perfectly suitable to stand on its own as a sculptural object. The cone is hand-carved from forest brown or green marble, making each piece completely unique.
For those with a strong appreciation for food presentation, look no further than Alwares. Each plate is handmade in Sweden, with this particular piece featuring a set of three buds meant to perfectly balance oysters. The stoneware features a dark surface contrasted by a lighter base, a mix of colors consistent with the shell of oysters.
Within the name alone, Nothing deserves a spot on Skim Milk's gift guide. Known for their eponymous phone, Nothing creates purposefully transparent casings to frame the internal engineering of their products. The Ear (2) wireless earbuds feature 36 hours of listening time with active noise cancellation and touch control.
For those looking to develop their green thumb with a bit of hand holding, the Grow Lamp is for you. Currently taking pre-orders via a waitlist, the base of the lamp not only connects with the planters themselves, but also serves as a charging bay for smartphones. The lamp has multiple illumination settings depending on how much light is required by each plant. Grow Lamp's self-watering planter lets users grow a variety of plant types regardless of experience level.
What better way to bookend this gift guide than to circle back to Colin King and his new book, Arranging Things, published by Rizzoli. If you require motivation to organize and style your space, seeing some of the most beautifully curated interiors should certainly help.
Follow along so you don't miss any of our 2023 Gift Guides this year!
This post contains affiliate links, so if you make a purchase from an affiliate link, we earn a commission. Thanks for supporting Design Milk!