While artists are among those who fear the potential impact of artificial intelligence (AI) on their creativity and copyright, pop artist Sir Peter Blake has been inspired by the technology to create a new series of portraits.
At the age of 91, Blake has been collaborating with a robot powered by AI and is excited by the artistic possibilities of this "kind of magic". He has been working with technicians in directing a robot to convert photographic portraits of people into painted portraits of them within minutes.
It combines groundbreaking specialist-trained AI technology with traditional Chinese craftsmanship. Blake watched in disbelief as a robot arm holding a large calligraphic brush created his own likeness on a canvas in just three minutes.
He told the Guardian: "It was fascinating to sit right by it and watch it being done … It's a good likeness …
"It's exciting, the possibilities of what it will be able to do … It's endless."
He said AI was a mystery to most people, but he found himself intrigued by it: "I don't totally understand it now, but anything we tested it with, it achieved. So I think it's a whole new open door of explorations … Anything's possible."
Last month, Blake used AI for a "performance art installation" in which 300 guests were photographed arriving at the Mandarin Oriental, Hong Kong, only to realise that they had participated in a world first – a Blake collage created in real time.
Each of those guests – who included the Oscar-winning actor Michelle Yeoh – were photographed and painted during the event, commissioned by Michael Moszynski of London Advertising. Their portraits appeared on an enormous canvas, measuring 5 metres x 3.4 metres, in which Blake had determined the composition and layering of imagery.
He said: "What excites me is the concept that the guest of the hotel arrives and is photographed, the information is fed through … and [they] find themselves being drawn. It's a kind of magic, isn't it? A magic situation … to actually watch this line appear. Suddenly a likeness of yourself appears … It's fantastic to watch [the robot] because it makes a mark from a tiny thin line to quite a fat line."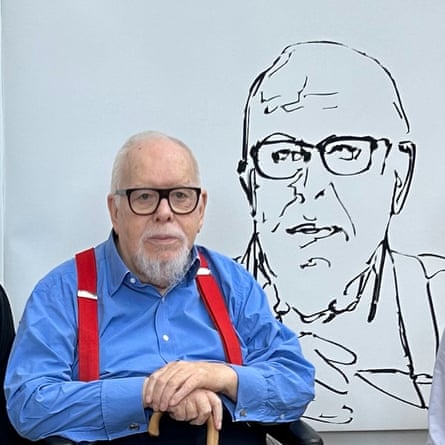 Blake is one of the leading figures of British pop art. Collages are among his iconic, groundbreaking images, from his early paintings depicting fragments of popular ephemera to his found-object assemblages.
His most famous works include the album cover for the Beatles's Sgt Pepper's Lonely Hearts Club Band, featuring the Fab Four alongside cardboard cut-outs of famous people.
His interest in AI has emerged just as AI has enabled the release of the "final" Beatles single, Now and Then, combining John Lennon's abandoned demo with new vocals from Paul McCartney.
But last week, leading nations produced an international declaration to address risks with the technology. Delegates at the AI safety summit at Bletchley Park in Buckinghamshire, included Elon Musk, the billionaire tech entrepreneur, who highlighted the potential benefits, while also issuing stark warnings about "humanoid robots", predicting that there would be no jobs as AI would have taken them all.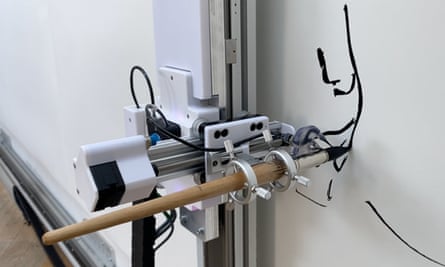 Illustrators are among artists who have voiced criticism of AI and its potential to devalue their work. Asked what he would say to those who fear AI, Blake said: "Just stay away from it. You don't have to use it."

In 2021, he told the Observer he draws "all the time" and he recalled his disappointment that, as professor of drawing at the Royal Academy Schools from 2002 to 2004, he struggled to instil that passion in his students: "They don't draw. I can't reignite an interest."
Both Blake and his friend David Hockney have always embraced the latest technology, but they have never forgotten the inspiration of drawing classes they attended at the Royal College of Art in the 1950s.
Blake believes AI can be used alongside traditional drawing, as just another tool: "My hope for it is that it takes its place in the armoury of an artist. It's no more important than the pencil or the brush."
Blake's work is on display in Rome and the artist has another show planned for the National Portrait Gallery in London.