Sometimes, if the situation allows on Ukraine's brutal eastern frontline, Yaroslav Pilunskiy will fly his drone to "a place I know where the Russians are constantly shelling over a lake, against a beautiful sunset."
Moscow's expenditure on the munitions represents a movie budget that Pilunskiy, 51, could only dream about in his former life as one of Ukraine's most respected cinematographers. "When the command staff ask what I'm doing, I say: 'When else will I be able to film these pyrotechnics?'"
On 23 February 2022, on the eve of Russia's full-scale invasion of Ukraine, he was working in Rome, colour-editing a film with a big international team. His only contact with drones, at that point, had been flying a simple model to scout movie locations.
Now he is a crack military drone operator for the armed forces of Ukraine.
"It is another life: it feels like 10 years ago," he says of his career in cinema. So complete is the transformation that, for the moment, the name of that final film project eludes him. "Sometimes I think: did I imagine it all? Maybe it's a defence mechanism in the brain."
In that other existence he was also a founder member of Babylon 13, a film-makers' collective that started life during the 2013 Maidan protests in Kyiv, making quickfire, reactive documentaries showing events from the perspective of ordinary citizens. Recently, the collective produced the acclaimed One Day in Ukraine, filmed over 24 hours on 8 March 2022.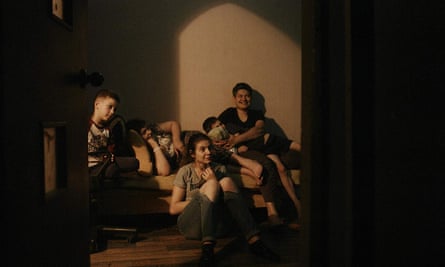 Working with Babylon 13 had its dangers, too. Filming in his native Crimea after the peninsula was annexed by the Russians in 2014, he was held and tortured. He says he was freed after six days only because of lobbying by former colleagues in the Russian film industry.
These days, Pilunskiy's unit has for its living quarters a village house in Ukraine's eastern Donetsk region, where the bass line to the autumn birdsong is the boom of heavy artillery.
Tea is taken out to the garden in a china teapot with delicate porcelain cups. There is hot water in the samovar and plums and sliced peaches are arranged on a dish. Seating is an empty ammunition crate.
The polite domesticity is disrupted by the a row of military boots lined up in the kitchen, the stack of automatic rifles and the black banner emblazoned with a skull and a motto that, politely translated, means "If you mess up, you die".
Pilunskiy is a member of the Adam Tactical Group, named for the call-sign of its commander, Yevhen Mezhevikin, a tank specialist.
Since joining last spring, Pilunskiy has served with the group in many of the full-scale invasion's bloodiest battles, including for Kyiv, Zaporizhzhia, and the Luhansk city of Lysychansk. "It was there, in Lysychansk, that we saw the Russian offensive as it was in second world war films, on that scale," he says. "The first wave was more than 15 units of armoured vehicles. The other two waves had even more: you couldn't even count it. It was pretty rough."
Until recently, he and his colleagues were based near Chasiv Yar, playing their part in the gruelling efforts to claw back territory on the southern flank of Bakhmut.
Missions are demanding and dangerous. Skilled drone operators are valued targets for the enemy. The task is to provide detailed reconnaissance information, moving close to enemy positions. Sometimes they drop explosives on targets. Pilunskiy says he uses his skill as a cinematographer to give the best possible sense of depth and scale to, say, trenches hidden in forests or behind treelines. Recently, he has initiated a mapping project to create detailed cartographical information for his colleagues.
"It feels like mining – you just dig though coal and have to make sure you're not buried by it," he said of the endless work.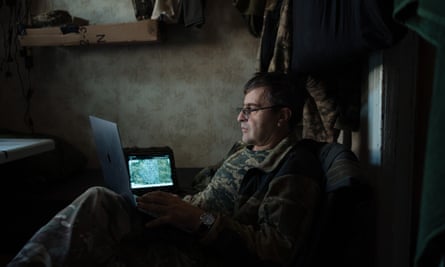 At the start of the invasion, Pilunskiy returned home overland from Rome and joined the group after rejecting invitations to become a news camera operator – despite being a self-described pacifist who took two university degrees specifically in order to delay, and ultimately avoid, doing Soviet military service.
"I have four sons, two of them of conscription age," he said. "I want to get this done faster so they don't have to."
Recently, he has been joined in the drone unit by Ivan Bannikov, one of Ukraine's most respected film editors and a fellow member of Babylon 13. Before the invasion, Bannikov says, "I was making films, trying to enjoy life, being with my family. I never dreamed there were creatures in the world capable of doing what the Russians have done."
Bannikov – lean, tanned, his hair buzz-cut – is almost unrecognisable from the urbane figure who in April gathered with colleagues in the Babylon 13 offices, a floor of a 19th-century mansion in central Kyiv. Only his elegant, wire-framed spectacles, more suited to the bars of Kyiv than to the hell of Bakhmut, give a hint that this is the same man.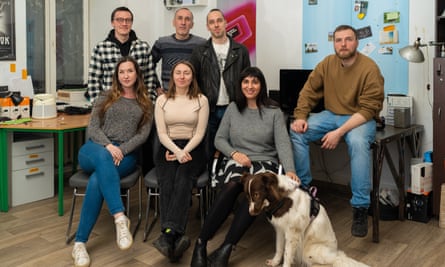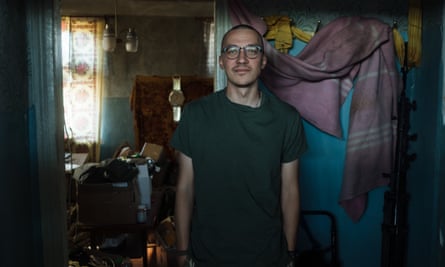 It was there, at the Babylon 13 offices early last year that the film-makers initially used drones as volunteers, when their premises became a HQ for a local territorial defence unit. Still tacked to the office wall this spring were diagrams showing images of military vehicles from above, used by the then amateurs to try to distinguish what they were seeing.
At that time, yet another Babylon 13 member was helping out the defence effort with his drone skills: Roman Liubyi, a director whose documentary with the collective, Iron Butterflies, about the 2014 downing of Malaysian Airlines flight MH17 by Russian-backed separatists, was screened at this year's Berlin film festival.
The film-makers had the advantage of owning powerful laptops with high-resolution screens – combined with Liubyi's local knowledge of the forest tracks around Irpin, one of the Kyiv suburbs occupied by the Russians.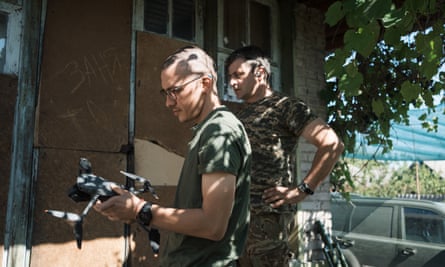 For the most part, says Bannikov, his former work as the editor of films such as One Day in Ukraine and The Earth is Blue as an Orange – both of which were screened at film festivals internationally and picked up by the BBC as part of its Storyville documentary thread – seems a world away from this gruelling, perilous role in the military.
But occasionally, "when you look at the enemy on the screen, it reminds you of when you are planning a scene at the editing desk – looking for the shot, then the reaction. It's the same here, you are looking for the right angle."
Pilunskiy, for one, is in no doubt about the effectiveness of the unlikely cinematic warriors. "If you got any production team and trained them for a month," he says, "I'm sure they would be able to hold their positions as well as anyone else – and very creatively."